How do you ensure that efforts to modernize your applications don't leave you right where you started? Time after time, we hear of dissatisfaction and wasted money and resources on application migration projects that are carried out using a combination of services from a provider as well as general automation tools available on the market. Typically in these cases, the services supplier provides the company with the new code once the project is over, supports it for 90 days and then walks away. Unfortunately, this essentially leaves the end customer back at square one — with a new legacy application. This is because:
The knowledge of how the code was written has just walked out the door.
There was no documentation handed over – the customer has only the original specifications.
There is no correlation between the new code and the legacy code so the "heritage" of the code has been totally lost.
Long-term success for modernization projects cannot be achieved in this manner, and we believe there are certain deliverables that are generally mandatory:
New code which has been completely annotated not only with developer notes but also including embedded annotations which show where the code came from in the legacy application
A complete set of documentation for the application(s),  including all functional components as well as data as the reference for the application.
The ability to manage the new system and to make changes and enhancements while keeping the documentation up to date.
These deliverables ensure that you retain the knowledge in-house from both previous versions of applications as well as your new applications, which serve as a useful foundation when future environmental and business changes come up. In addition, you can keep this knowledge up to date as you make changes to your applications and test out the impact of some of those changes.
This is where Intellisys comes in. The platform uses intelligent automation to extract embedded knowledge from an application's source code and generates detailed documentation. This documentation is generated in a way that can be understood both by analysts as well as programmers, which helps multiple members of staff to use it when making business decisions. It also keeps this documentation current with periodic processing. This ensures that applications are kept up to date in an on-going manner as opposed to requiring multiple, tedious efforts, resulting in significant time and cost savings.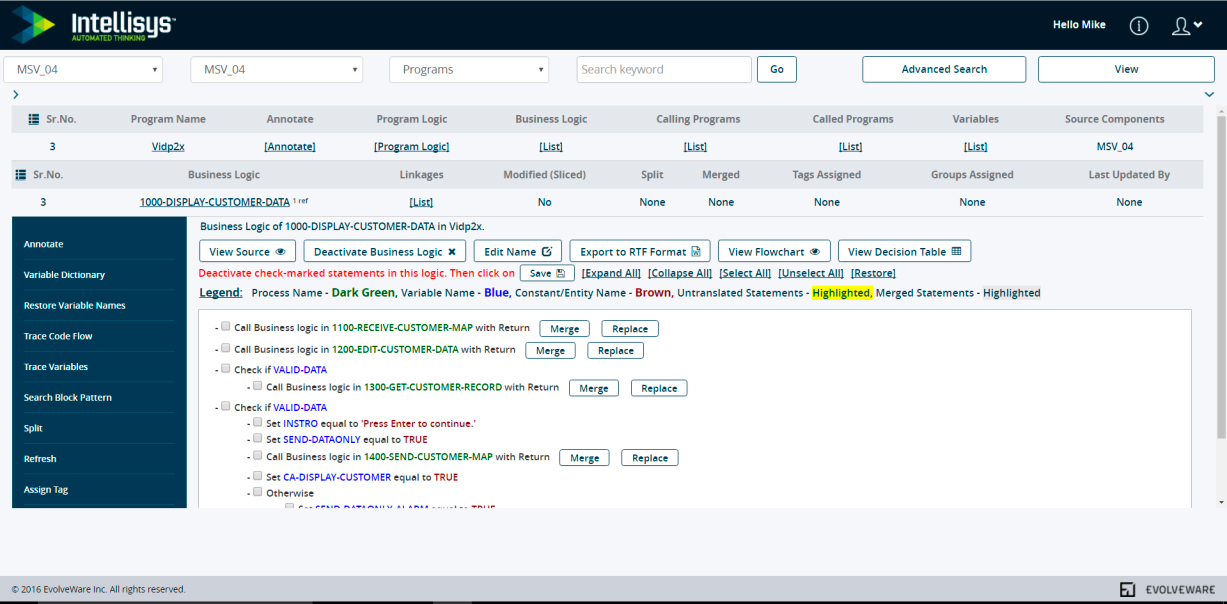 With Intellisys' documentation and analysis capabilities, you can rest assured that you've been set up with the right foundation for future application maintenance or modernization projects. With the knowledge gained and continually updated, you have the ability to make the best decision for how to move applications forward not just once but consistently, over time. Most importantly, you can finally leave your legacy applications where they belong – in the past.
For more information on the importance of documentation and how Intellisys can help, read our post on protecting your organization from system knowledge loss or contact us.